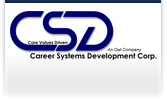 Job Information
Career Systems Development

Career Transition Specialist

in

Limestone

,

Maine
Overview
Interested in making a difference in young adults' lives between the ages of 16-24? If so we may have the perfect job for you.
Job Corps is a government-funded, no-cost education and vocational training program administered by the U.S. Department of Labor that helps socioeconomically disadvantaged youth. We strive to fulfill this mission by following our Core Values of Safety, Individual Accountability, Respect, Integrity, Growth and Commitment.
Come and surround yourself with talented and professional individuals who have also taken the next step of making a difference in someone's life.You would not only have a great and dedicated team to work with, but you may also be eligible to take advantage of a comprehensive benefits plan which includes medical, dental, vision, life insurance, 401(k), legal, paid holidays, vacation, and sick time.
Responsibilities
The Career Transition Specialistis responsible for counseling students in all aspects of career transition readiness, job search skills, job placement issues, job retention, and Job Corps student exit processes. Responsible for identifying exited students who are no longer employed or in school and ensure a reconnection with another placement, school, or a Remote Career Transition Specialist.
Conducts interviews with students entering the Career Transition Phase of CDSS. Provides re-orientation and further focus on job search techniques

Creates and maintains a caseload of active student files, establishing a tickler system for caseload management, maintains bi-weekly or (at minimum) monthly contact through telephone correspondence

Visits classrooms and trade shops to familiarize students with Career Transition processes, employability skills, career preparation, job search, job retention, etc. Familiarizes students with Advance Training, military, and job offers

Coordinates mock interview sessions. Assists in the coordination of job fairs and career days

Maintains linkages with military services, One Stop and other external resources, maintain job banks, secures and post job leads, set up job interview, arranges transportation assistance and other support services. Performs job development by screening leads from newspaper classifieds, telephone, and personal contacts, referrals, Internet, and other youth service organizations

Ensures that all necessary licenses, certificates, transcripts and/or any pertinent document that will aid in job search are completed/obtained preferably prior to students' exit

Identifies support services needed for relocation, makes referrals to support services agencies. Develops and maintains a resource center for support services

Serves as chairperson of the student's Career Assessment Panel and submits appropriate reports

Participates in individual or group counseling services in coordination with Social Development Department and Mental Health Consultant, as needed

Upon learning of a lost placement, intensifies contact frequency and presents job offers to contacted students, reminds students of importance of job search and job retention. With ongoing contact and cooperation with Remote Career Transition Specialists, secures and arranges for potential job interviews for former enrollees
Qualifications
Minimum: Associate's Degree in in human services, psychology, counseling, education, social science, buisness commuications, or related field. In addition, 2 years related experience.
Preferred: Bachelor's Degree in human services, psychology, counseling, educaton, social science, buisness commuications, or related field. Job Corps experience a plus.
Knowledge Required:Sound knowledge of case management, career counseling, employment counseling and job search, job preparation and development techniques. Must be able to effectively communicate with culturally disadvantaged and minority youth. Must possess a valid state driver's license. Excellent communication skill, both oral and written. Must obtain and maintain valid CPR/FA certification. Good organizational skills. Ability to inspire and motivate students.
All post offer candidates must complete and pass a background check and drug screen.
CSD is a leader in workforce development operating Job Corps centers throughout the U.S. since 1964 and is proud to be an Equal Opportunity /Affirmative Action / Female / Minority / Disabled / Veteran Employer and does not discriminate on the basis of race, color, religion, sex (including pregnancy, child-birth, or related medical conditions), national origin, ancestry, age, disability, family care status, veteran status, marital status, military status, sexual orientation, gender, or any other characteristic protected by law. CSD makes reasonable accommodation for persons with disabilities to apply for employment. Contact a representative at (888) 308-0338 to request a reasonable accommodation.
Job LocationsUS-ME-Limestone
Job ID2020-3128
CategoryCareer Transition
Schedule Hours7:45 am - 4:45 pm Monday - Friday
Schedule DaysMonday, Tuesday, Wednesday, Thursday, Friday, Holidays