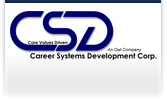 Job Information
Career Systems Development

Security Coordinator

in

San Jose

,

California
Overview
Interested in making a difference in young adults' lives between the ages of 16-24? If so we may have the perfect job for you.
Job Corps is a government-funded, no-cost education and vocational training program administered by the U.S. Department of Labor that helps socioeconomically disadvantaged youth. We strive to fulfill this mission by following our Core Values of Safety, Individual Accountability, Respect, Integrity, Growth and Commitment.
Come and surround yourself with talented and professional individuals who have also taken the next step of making a difference in someone's life.
You would not only have a great and dedicated team to work with, but you may also be eligible to take advantage of a comprehensive benefits plan which includes medical, dental, vision, life insurance, 401(k), legal, paid holidays, vacation, and sick time.
Responsibilities
TheSecurity Coordinator is responsible for enforcing all laws, rules and policies authorized by the Safety and Security Department.
Demonstrates and abides by the Company Core Values and the operating principles.

Ensures the proper management and control of the safety, security, and fire prevention functions.

Maintains order, discipline and adherence to center policies and Job Corps guidelines

Assigns security staff to specific areas, e.g., cafeteria, front gate, escort service, etc.

Prepares written accident reports, incident reports, security lob and shift blotter report

Maintains necessary liaison with local law enforcement agencies during shift

Monitors the issuance of visitors' passes, vehicle permits, and trainee passes

Arranges for emergency transportation of trainees when necessary

Performs building and grounds inspection to insure safety, security, and fire prevention on assigned shift

Directs and oversees the performance of security staff in the absences of the department supervisor

Coordinates and oversees the trainee security cadet program.
Qualifications
Minimum:High school graduate or equivalent. College coursework in law enforcement or criminal justice. Two years work-related experience. Model company Core Values.
Preferred:Extensive experience.
Knowledge Required:
Knowledge of investigative techniques. Knowledge of riot and crowd control techniques. Knowledge of law enforcement procedures. Ability to obtain and maintain a valid state driver license. Must obtain and maintain valid CPR/FA certificates. Ability to effectively relate to trainee population. Excellent communication skills, both oral and written.
All post offer candidates must complete and pass a background check and drug screen.
CSD is a leader in workforce development operating Job Corps centers throughout the U.S. since 1964 and is proud to be an Equal Opportunity /Affirmative Action / Female / Minority / Disabled / Veteran Employer and does not discriminate on the basis of race, color, religion, sex (including pregnancy, child-birth, or related medical conditions), national origin, ancestry, age, disability, family care status, veteran status, marital status, military status, sexual orientation, gender identity, or any other characteristic protected by law. CSD makes reasonable accommodation for persons with disabilities to apply for employment. Contact Susan Evans at (888) 308-0338 to request a reasonable accommodation.
Job LocationsUS-CA-San Jose
Job ID2020-2898
CategorySafety/Security
Schedule Hours9:30pm to 6:30 am
Schedule DaysMonday, Tuesday, Friday, Saturday, Sunday